Hello Nomads,

The final dispatch of 2017 is here at last. The 2017 made the most important year for Planet Nomads. In May the game was made publicly available for the first time. In August we released 0.7 with crash-sites, improved and optimized animals and terrain generation. Last month, in November, 0.8 came with monuments, reworked electricity and flying.

During the whole time you stayed true Nomads and supported the game during the good times and the rough ones. It was only thanks to the combined might of you and of the PN team that we got this far. To positive ratings, with December well on its course to becoming the strongest month since Planet Nomads' release in May. There's more where this is coming from.
What's Next for Planet Nomads
Now that Planet Nomads has survived and safely landed, it is time we focus on the basics  once again. All the little things that have been bothering you, our dearest Nomads, for quite some time. We've decided to make the experience more friendly and comfortable for you.

That includes but ain't limited to accidental holes, automatic reconnection of snapped electric connections between switchboxes, terminal functionality for cockpits, controllable rotating plates (or pistons), having biomes show on the map, weight of buildings, lift capacity of wheels and airblades, water miner, altitude meter, cockpit GUI showing battery capacity... you know, goodies like these, but that's not all of it. There's going to be new modes of transport too, such as these industry-class airblades.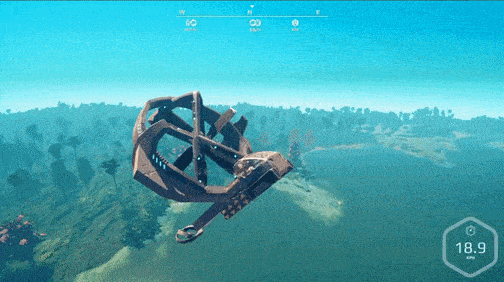 Blueprints and Workshop
We know that building truly extensive and epic builds us not easy and not for everyone. On the other hand, Nomads such as Johndai, BCP Labs, Got to be Real or Old-gamer will surely be happy to share some of their creations with others. We are working towards that. We're working for you to be able to spawn blueprints of your creations right inside the game. In a similar fashion, if possible, we will also like to enable you to build repeating parts of your builds with ease. And finally share these via Steam Workshop.
Christmas Gifts Inside New Games
If you were ever thinking of starting a new game in Survival, now would be a good time. Some extraterrestrial being has sprinkled Christmas presents all over the planet. They include rare materials, and some of them, even the best equipment that will come handy on your journey.
A sage once said that happiness is only real when shared. For that reason we're running a contest for the chance of winning a physical box. You know the box from 'what's in the box' episode of Nomadic Journals. All you have to do, is shoot a video of you finding and unboxing the presents in Planet Nomads. Then share it in this forum thread. You have until the end of the year to join. In January, we will select one of you and send the box your way. Good luck!
40% OFF Christmas Gift
One more piece. It is the time of the year with sales all around and we want Planet Nomads to be part of the fray. Planet Nomads will be 40% OFF both on Steam and GOG during the Christmas holidays. It's the highest sale to date and will hardly get this high anytime soon. If you are reading this, you probably already own your copy of Planet Nomads. But maybe there's someone who will enjoy the game the same as you? In any case, just wanted to put it out here. Starting today on Steam and tomorrow on GOG.
And that's really it! We're going to take a break now to recharge our energy and go at it at full-speed again next year.

Happy holidays, Merry Christmas, Happy New Year... and happy Nomading!

See you all soon, Nomads.
-Craneballs